Tencent Pictures
Brand Visual Image Design
September 17, 2015 – Tencent announced its wholly owned subsidiary Tencent Pictures which has become a new business entity of Tencent Interactive Entertainment. As an important strategy of Tencent Interactive Entertainment content construction, Tencent Pictures established and developed Star IP as the core business lead. Closely linked with internal and external pan entertainment business including games, animation, and literature, it further explored
Advertiser:Tencent Pictures
Industry:Film
Time:2015
Launch:Global
Customer Insight:Unlimited imagination based on the Internet and Star IP
Creative Idea
As one of the most important brand-new businesses of Tencent in 2015, the logo designing of Tencent Pictures aroused wide concern. Insight Group sought inspiration from the advantages of Tencent Interactive Entertainment. After 12 years of great efforts, Tencent Interactive Entertainment has developed the pan-entertainment ecosystem of games, literature and animation, and boosted traditional film industry with more IP works. Based on the pan-entertainment ecosystem, Tencent Pictures cooperated with external partners and provided channels and tools for IP derivatives to explore together the film industry in the Internet age. Thus, Tencent Interactive Entertainment features a new pan-entertainment ecosystem based on IP, which makes its core competitive edge - quality IP plus fan loyalty. Quality IP carries the good feelings of fans, and Tencent Pictures is the cradle of Star IP based on Internet fans.
Insight Group's design idea: Unlimited imagination based on the Internet and Star IP
Creative Concept: Imagination
More wonderful creative environment: build a web-based platform with integrated power from leading creators and users to make IP works blossoming;
More abundant cross-industry experiences: bring the users more diverse and extensive interactive entertainment with IP derivatives;
More diverse industry models: explore more groundbreaking and creative models in film industry;
More durable fan effect: stimulate the enthusiasm of more fans by virtue of the unique web-based platform and accumulated users and experience.
Logo designing in film industry often adopts images to visually display the brand vision or brand mind. Thus, a core element clearly representing Tencent is needed to design the logo and concretize it.
Creative Performance
Star Trek
There is a group of penguins living in the snowcapped pole. One day, one of the penguins asked a question that was never thought of, "What is it like in the outside world? Is it the same here?" Taking the floating ice as the boat, and courage as the helm, he drifted into the distance. He saw many splendid scenes that other penguins couldn't throughout their lives: stars moving about in the sea, fishes with wings dancing to the melody in the sky, and a scroll painted with starlight. They looked like a flowing Milky Way in the sea. Suddenly, a door leading to another universe burst into view. The little penguin moved close to that door without the original uncertainty. He went over bravely, wondering about the outside world.
Imagine a new film industry.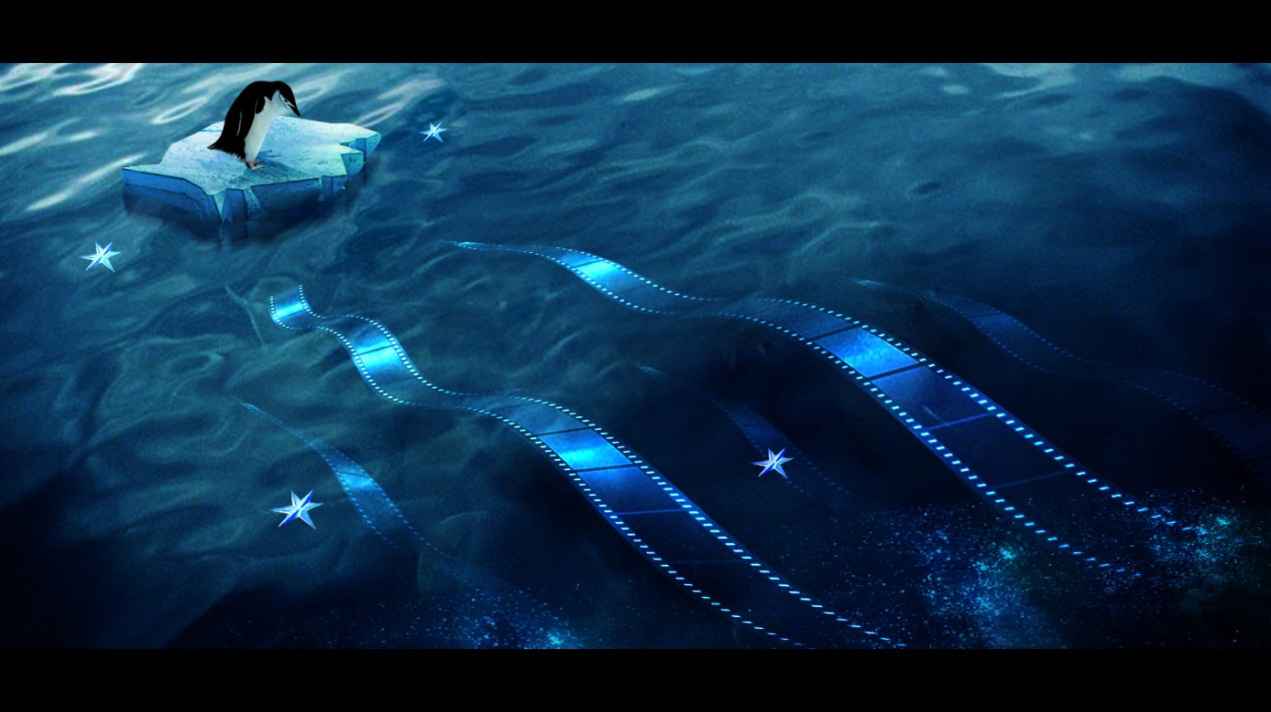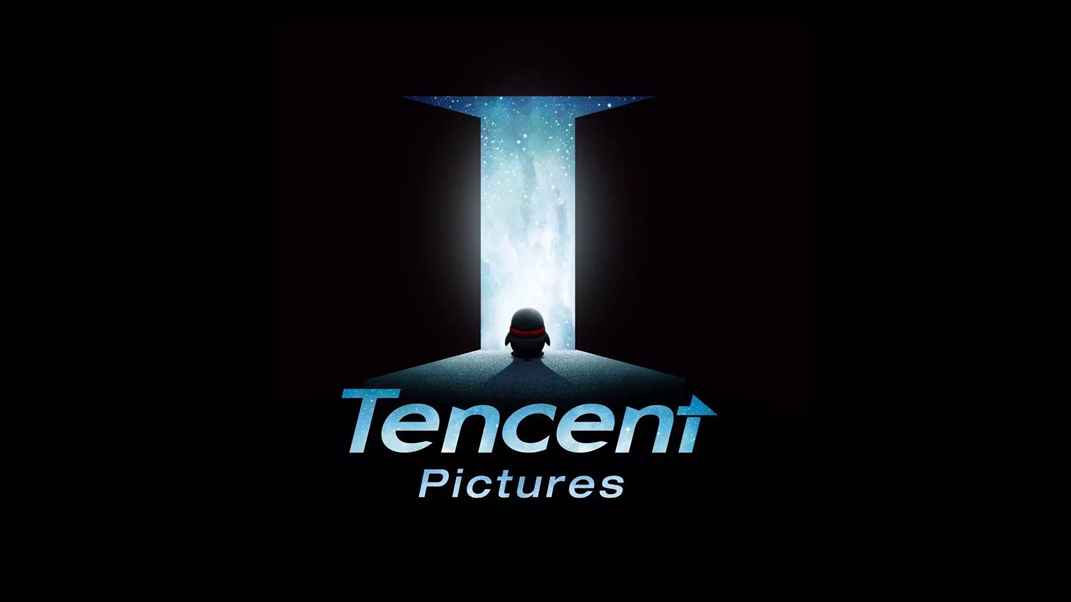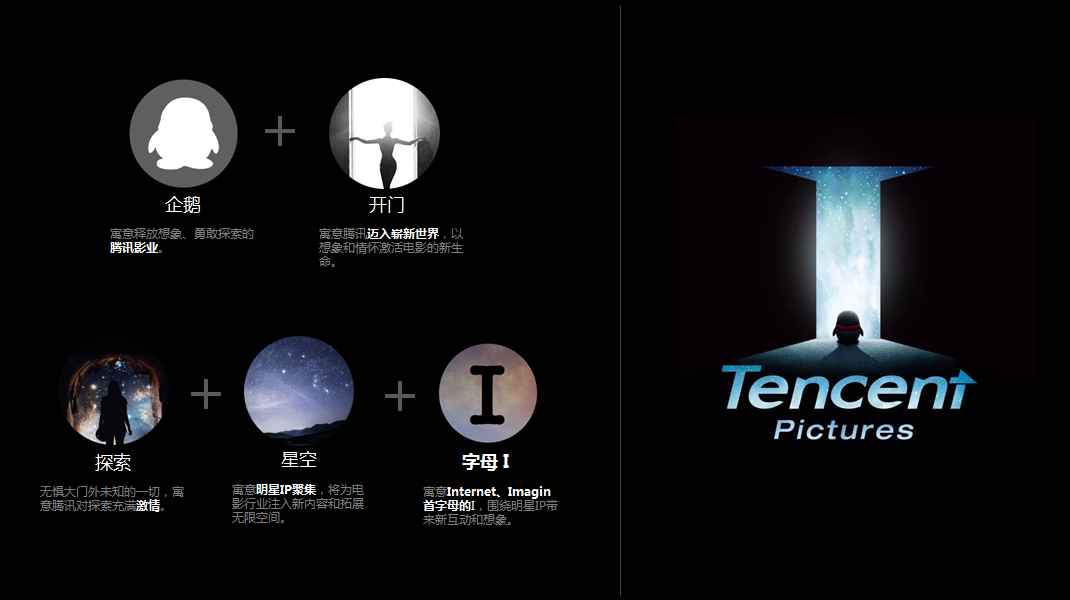 Creative Description:
The door on the logo of Tencent Pictures stands for the letter "I"
"I" implies:
I, the participation of all audience;
IP, emotional resonance proved in the market;
Idea, free aggregation of ideas and creative people;
Internet, a connected world created by the Internet.
Interactive, a stronger trend of interactive experience;
Imagination, an era full of imagination.
Extension: